balaa

Just a heads up for anyone who held off ordering a werewolf calendar, the pre-sales will be closing in just under a week. There may be a small number of extra calendars printed for resale after the pre-orders close but in years prior these have gone in a matter of days. So if you would like one for yourself or as a holiday gift to someone special, now is the time to get one!

We are extremely excited by this years edition and the amount of talent packed into the calendar and hope in turn you will too. After all this calendar would not continue on without your wonderful and continuous support! Thank you to all of you that have supported this project or helped spread the word!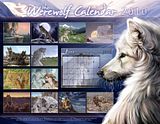 To read more about the calendar visit: Werewolf Calendar website
To purchase your own copy instantly via paypal: Purchase Page

This year's participating artists are:
Balaa, Dark Natasha, Goldenwolf, Khaosdog, Loba North, Myenia, Rayndancer, Synnabar, Therese Larsson, Thornwolf, Vantid, Zakka, Zowolf
Minor changes might be made, but this is pretty much what the calendar will look C:.